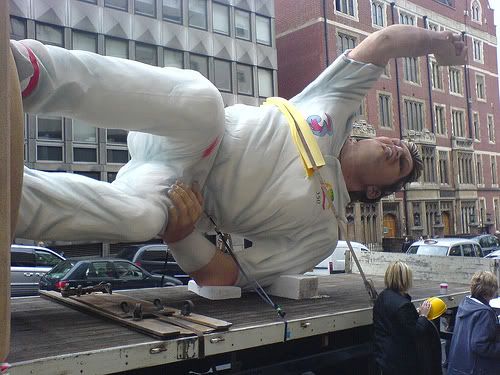 But, to take a more libertarian tack than you generally do, don't you think inequalities contribute positively to a league in the short run? You can step out on the street where you live, wherever it is, and notice how the modern Manchester United have done wonders for the global profile of English football. Of course, an ideal competition would be balanced out by different kinds of teams, each of them a unique and beautiful snowflake that competes in a balanced, fair league and brings out the best in each other.
...I know.
Anyway, the idea that
the IPL is a fair and equal league
is holding up for now thanks to two things: the Mumbai Indians discovering some of the form you would expect as a matter of course from the league's most expensive franchise, which allowed them to pull a couple back over the other metros; and the genius of Shane Warne.
As followers of Rajasthan Royals will testify, he has been little short of a revelation in the IPL. Not only has he led the cheapest franchise to the top of the table on the back of five straight wins, he has cajoled his team's unheralded youngsters and - even more difficult, this - almost convinced everyone that he is now best mates with Graeme Smith.

But the pièce de résistance was surely his performance at Thursday evening's post-match press conference, when his verbal destruction of Sourav Ganguly, his opposing captain that night, made grown men wonder how much more entertaining Test cricket would have been if Warne had kept his nose clean and ascended to the captaincy of Australia. Steve Waugh once called Ganguly a "pr!ck" because, among other things, he made Waugh wait at the toss, but Warne was not troubled by such succinctness.

--from The Spin's 'Extras' section.
I do not understand why this man didn't come in to the circus for a lot more cash. It escapes me entirely. I can't emphasise this enough. Either the moneybags running the teams in the metros had a tin ear for how popular he is in India, or they were swayed by the fact that the man buggered off contract to play in a poker tournament when he should have been captaining Hants. The miracle of Warne and his little team from Jaipur, perched at the top of the IPL table as I write this, is proof of how financial swagger is not the ultimate answer to financial swagger, even at the most businesslike end of sport. Money makes a debilitating difference to the teams who don't have it, but it is irrelevant to the qualities that build teams and sustenable systems, instead of mercenary collectives.
Not to be rude or anything, but if there's any chance of the IPL's being an essentially fair and balanced league, you can be sure the people who pay to keep the machine going will do their best to change the situation as soon as possible. If it doesn't happen next year, it will the year after that. And when the situation changes, and when salary caps are blown and teams start looking to establish long-term dominance, the IPL will be
lucky
if they have teams that can use all that money and buy themselves a brain. Becoming a Manchester United or [even] a Mourinho-inspired Chelsea, and becoming a team of Galacticos, which is the likeliest and most fearful outcome in the IPL environment, are going to yield very different results.