Eduardo's breaking ankle will be the nightmarish after-image this weekend leaves in the minds of most people. Here's hoping he recovers well and as rapidly as possible, and much the same to Adrian Mutu, whose injury this weekend in Fiorentina's game against Roma has come at a horrible moment for the Viola, who are in the UEFA Cup's last 16 and playing peek-a-boo at fourth spot in Serie A, whence Milan dislodged them last night, for the first time this year. May Everton be dazzled by the force of the Bobo, who becomes their #1 striking option now.
If it weren't for these, this weekend might have gone down as the funniest one all season. Juventus lost to Reggina on a soft penalty. They're
writing letters to FIGC about it
this morning. It's unbelievable. A season in B has apparently done nothing to dent a sense of entitlement that would -- how to find the words for it? -- that would put
Milan
to shame.
Football Italia reports that

Ahead of Tuesday evening's derby, city rivals Torino have reacted with little sympathy to Juventus' complaints
.

"Poor Juve, having to be treated like everyone else," a statement from supporters group Toro Club reads.
They really are calcio royalty -- the prurient interest and perverse pride that so many fans take in supporting them is matched only by the resentment and derision harboured by others. I forget who wrote a novel I once read about Queen Elizabeth being forced to re-locate to a suburban housing project after a disastrous Parlimentary election. Perhaps in time Juve's Cadetti season will take on a similarly absurd quality.
Then, of course, there's Marco Borriello, best known for his profile shots in Milan's annual D&G calendar and the Incident With The Ointment [Paolo Bandini's weekly Italia roundup in the Guardian
recounts it today
]. Bundled off in disgrace to Genoa at the end of last season by a fastidious Milan, he now sits at the top of the capocannoniere lists of the season. Chris has
video links
.
And over in Spain, Arjen Robben noticed there was something badly wrong about the goal he scored.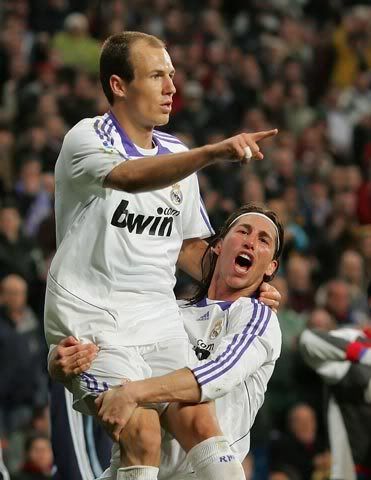 Tim Stannard
squees
. I think it's Sergio Ramos who truly brings the picture to life.
[Thanks to Martha for the pic. I'm so glad you're watching football other than Newcastle these days, bb. *ducks*]